Virtual Scrabble Tournament
Virtual Scrabble Tournament – Home Edition! 
We cannot hold our Annual Scrabble Tournament in-person this year, but we won't let that spoil the fun. Join us for the 2021 Virtual Scrabble Tournament Fundraiser – Home Edition! As usual, all proceeds raised benefit the Law Library and the Santa Cruz County Office of Education's Teen Peer Court Program. We will be holding our virtual event from May 15 through May 29th.  
We look forward to your participation in this year's virtual event, but if you can't play, please consider making a direct donation to the Law Library. Your support helps us continue to provide free access for our community to the law and legal resources, which we have been doing since 1896.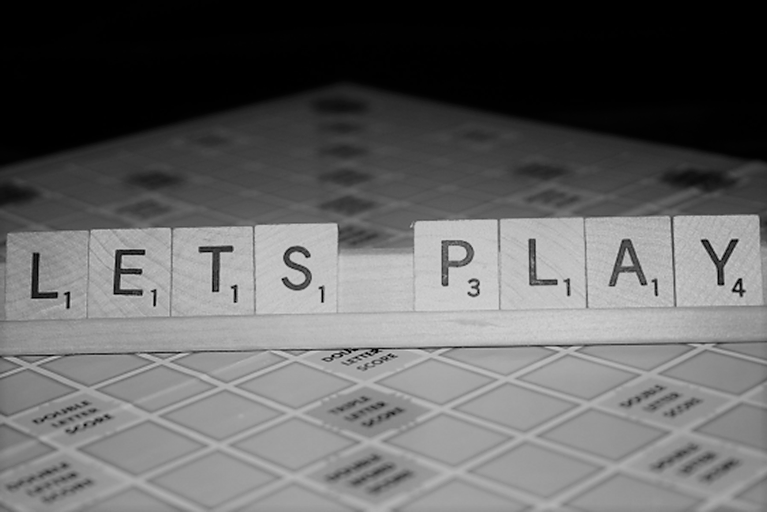 We revitalized our Annual Scrabble Tournament in 2010.  If you can't join us, consider making a donation. All donations make a difference and are greatly appreciated!
How it works:
The tournament takes place over 15 days –

May 15 through 29, 2021

During those 15 days everyone plays

at least three games,

either online or by board game. (Links to online play options are listed below.) Games must begin and end during the tournament time period.

You can play against a friend, random opponent, or computer. Only two players to a game are allowed. Players of all ages can compete in one of two categories – Competitive or Recreational. Each category will have at least six players; if there are less than six players in a category, the Law Library may consolidate play into one category.

Each player must register by May 14th. Registration may be completed online, in-person, or by mailing the registration form.  The $10 entrance fees and donations can be paid by check or cash (We hope to add a credit card option soon). Fees must be received by May 28th for submitted scores to qualify. See the section below on how to submit payment. 

After you have completed your games,

each player

must submit their highest

three

single game scores and screenshots of the final boards to the Law Library using the online form that will be made available here or by email to

santacruzlawlibrary@gmail.com

 

All games must be completed, and scores reported by 11:59 pm on May 29, 2021.

Prizes for placing in the tournament will be awarded on the basis of number of games won, and then by highest scores.

Tournament Champions and other award winners will be announced during the week of June 1, 2021 on the Scrabble 2021 Homepage and winners informed via email.
Prizes: 
Each registrant is entered into a drawing for prizes

Registrants may submit Law Words or Spellbinding Plays with their final score or at any time during the 15 Day period play is open. Submissions must include a photo or screenshot of the play. 

For each Law Word or Spellbinding Play submitted, the registrant will receive an additional entry into the drawing for prizes. The Scrabble Committee will vote on the Best Law Word and Most Spellbinding Play for a separate prize.   

Prize Categories:

Tournament Champion each division: $100 gift card

2nd Place, each division: $75 gift card

3rd Place, each division: $50 gift card

Best Law Word: $25 gift card

Most Spellbinding Play: $25 gift card
Important Information:
Information on how to take a screenshot on most devices is available here

All prizes will be mailed out to winners. Arrangements may be made for in-person pick up at the Santa Cruz County Law Library. 

We ask that you do not use dictionaries, descramblers or any other online tools to assist in your play. 

Law Words are defined as words rooted in the practice of law (i.e. jury, plea, writ, gavel)

Spellbinding plays are any plays that you are proud of. These can be unusual words, tricky combinations, or combinations that garner a high score.
Payment Options:
If paying by check, please make your check payable to Santa Cruz County Law Library.
Mail your check to Santa Cruz County Law Library 701 Ocean Street, Room 70 Santa Cruz, CA 95060
Drop off check or cash at the above address between 8 a.m. and 12 p.m.
Make arrangements to drop off your payment outside of our public hours listed above by calling 831-420-2205 or emailing santacruzlawlibrary@gmail.com.